On July 31, 2021 around 3:30am, an alarm was activated at the Wilton 76 Gas Station located at 2520 NC Hwy 96 S., Franklinton, NC 27525. When deputies arrived on scene, they noticed that there was damage to the front door of the business and that it appeared someone had entered the store. The deputies entered the business to conduct a safety sweep and look for any victims or suspects who may still be inside. The deputies were unable to locate anyone inside of the store. The on call Detective was notified as well as the store manager. Once the store manager arrived it was revealed that cash was stolen from inside of the store. Once the Detective arrived, the video surveillance revealed that the suspect, a white male wearing a black ski mask, gloves, a blue hoodie, black pants, and black shoes had entered the store, grabbed the cash and was out within 2 minutes. There was no vehicle shown on surveillance. After the scene was processed, the on call Detective and Deputies canvassed the area in search of the suspect and/or further information. Photos attached are of the suspect involved.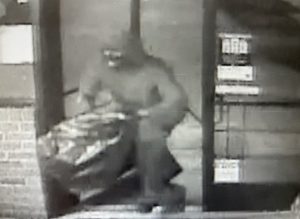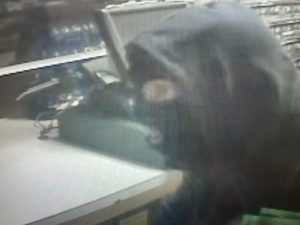 If you have information concerning this incident, please contact the Granville County Sheriff's Office at 919-693-3213 or call Crime Stoppers 919-693-3100.
THE GRANVILLE COUNTY CRIME STOPPERS BOARD OF DIRECTORS HAS AUTHORIZED THE PAYMENT OF A REWARD OF UP TO $1,000.00 FOR INFORMATION LEADING TO THE ARREST/INDICTMENT(S) OF PERSON(S) RESPONSIBLE FOR THIS CRIME. IF YOU HAVE ANY INFORMATION CONCERNING THIS CRIME OR ANY OTHER SERIOUS CRIME(S) IN GRANVILLE COUNTY, YOU ARE ASKED TO CALL THE GRANVILLE COUNTY CRIME STOPPERS IN OXFORD, NC AT 919-693-3100.