The 8th Annual Granville County Crimestoppers Awards Banquet was held on Tuesday, October, 24, 2023 at Pleasant Grove Baptist Church in Creedmoor.  This annual event recognizes and acknowledges law enforcement personnel who have shown outstanding service to his/her profession and community.as selected by the Sheriff and/or their department Chiefs, as well as individual citizens and businesses that give of themselves to further mission of Granville County Crimestoppers.
The Banquet would not be possible without the sponsorships of local businesses and individuals.  This year we had 49 table sponsors with approximately 375 people in attendance, along with one corporate sponsor.
CORPORATE SPONSOR
Boyd Chevrolet and GMC Truck of Oxford
TABLE SPONSORS

Allen and Ella Nelson
Butner Public Safety
Carolina Sunrock
City of Creedmoor
City of Oxford
Cornerstone Christian Church
Cozart & Edwards (Converting Hearts)
Creedmoor PD
Daniels, Vicky & Ron
David Smith
District Attorney's Office
Emergency Communications
Enon Baptist Church Pastor Steve Brown
Farm Bureau Ins. Co.
Federal Bureau of Prisons, FCC Butner
Frank Sossamon
Granville County Commissioners
Granville County Republican Party
Granville County Sheriff's Dept
Granville Health Systems
Henderson Vance Crime Stoppers
Hicks, Preddy, & Washburn, PC
Jim Smith (In memory of Nancy Smith)

Jim Wrenn, Smith, Anderson, Blount, Dorsett,

Mitchell & Jernigan, LLP via donation

Autumn Park Apartments
John Hardy
Masonic Home for Children
Mike Beal
Oxford Police Dept.
Patsy Milton
Renee Green
Riccobene Associates Family Dentistry
Town of Butner
Town of Stem
Town of Stovall
Vance County Republican Party

Chairman Jimmy Barrier
The banquet was chaired by Frank Sossamon, President of the Granville County Crimestoppers.  The South Granville High School JROTC presented the Colors and Mr. Carl Roberts, a Crimestoppers member, sang the national anthem.  After the Invocation by President Sossamon, a delicious dinner, catered by Patricia Crute was served.
After dinner, the guest speaker, Chief Justice of the North Carolinas Supreme Court, Paul Newby, was introduced by President Sossamon.  Chief Justice Newby spoke on the role of law enforcement and the court system in carrying our justice that is deserved by every citizen of the state
The 2023 Law Enforcement Officer of the Year Award recipients were: Officer Joseph Mennella, Butner Public Safety; Officer Croy Mack, Creedmoor Police Department; Deputy Sgt. David Watson, Granville County Sheriff's Department; Captain Josh Clayton, Granville County Sheriff's Office Detention; Ms. Jordon Robinson, Telecommunicator Supervisor, Tyler Hughes, Telecommunicator, Ms. Angela Englebright, Telecommunicator, of Granville County 911; Cpl. Daniel Allen, Oxford Police Department; Officer Kenny Bullock, Stem Police Department, and Chief Craig Williams, Stovall Police Department.
The banquet also recognizes corporate and business partners that made significant contributions to public safety as volunteers and shows special interest in keeping our community safe. The 2023 recipients of the Local Business Partnership Award are Ricky and Vicki Garrett and the 2023 recipient of the Corporate Partnership Award is The Masonic Home for Children, accepted by Ms. Linda Clark and David Aycock.
Crimestoppers presents two awards to individuals in the community who have made a significant contribution to fighting crime, advancing good will, and encouraging crime prevention.  The 2023 recipient of the Jim and Nancy Smith Citizens Award is Ms. Cindy Smith and the 2023 recipient of the President's Award is Next Door Radio owned by Trey Snide.
Crimestoppers also presents an award to the GCCS board member(s) who have exhibited outstanding service to the organization during the year.  This year the recipients of the Board Member of the Year Award were the husband-and-wife team of Ron and Vicki Daniels.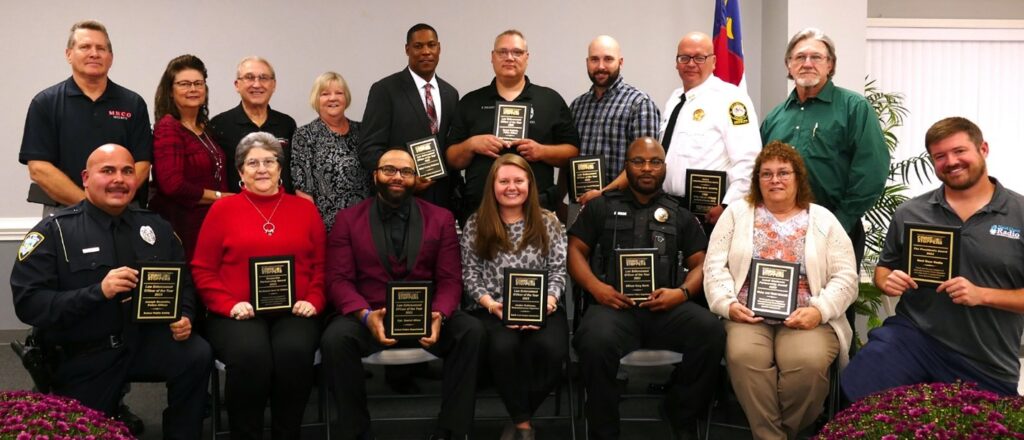 2023 Crimestoppers Banquet Award Recipients
FRONT ROW (L TO R):  Officer Joseph Mennella, Butner Public Safety; Linda Clark, Masonic Home for Children; Cpl. Daniel Allen, Oxford Police Department; Ms. Jordan Robinson, Telecommunicator Supervisor, Granville County 911; Office Cory Mack, Creedmoor Police Department; Vicki Garrett, Crimestoppers; Trey Snide, Next Door Radio
BACK ROW (L TO R): David Adcock, Masonic Home for Children; Vicky and Ron Daniels, Crimestoppers; Cindy Smith, Crimestoppers; Chief Craig Williams, Stoval Police Dept.; Officer Kenny Bullock, Stem Police Department; Deputy Sgt. David Watson, Granville County Sheriff's Dept.; Captain Josh Clayton, Granville County Sheriff's Dept. Detention; Ricky Garrett. Crimestoppers (Not pictured: Tyler Hughes and Angela Englebright, Telecommunicators, Granville County 911)