On December 30, 2021, the Oxford Public Ledger ran an article on the Granville County Crime Stoppers Annual Awards Banquet, along with a picture of the 2020 state and local award winners.  Although the Ledger was cited in the article as having won the 2020 NC Crime Stoppers Cameron Kent Media Award (a state wide award), there was not a photo of them accepting the award.  I hope you will note the accompanying picture of the award being accepted by Donna Perkins and Barbara Critcher.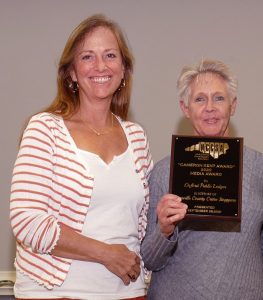 Granville County Crime Stoppers owes a large debt of gratitude to The Ledger for their unwavering support of Crime Stoppers and for being proactive in covering local events and local stories.  The paper publishes articles on Crime Stopper events, posts meeting notices, covers law enforcement meeting, publishes crime reports, and a Crimestopper's "Crime of the Week". Lewis Bowling, Granville County historian, in his book "Looking Back, 275 Years of Granville County History", says "Just as in 1932 when America was in the grips of the Great Depression, thousands of people in 2020 still turn to the Oxford Public Ledger for news".
Granville County Crime Stoppers would also like to thank Pleasant Grove Baptist Church and Rev. David Herman. for allowing us to have the banquet in their fellowship hall, to South Henderson P H Church Men's Ministry (President, Wilson Sawyer) for a delicious catered meal, to the Crime Stoppers Event Committee, (chaired by Vicki Boyd) and all the crime stoppers that assisted in the planning and preparation for the event, and to all the table sponsors (businesses, corporations, and individuals), those that bought event tickets, speakers, presenters, and participating law enforcement.
This event is an opportunity for the community to recognize the outstanding law enforcement agencies and those that work diligently to support them.  Thanks again to the Granville County community for supporting our law enforcement agencies!
Frank Sossamon, GCCS President
Doug Herrin, GCCS Community Affairs Committee, Chairman